r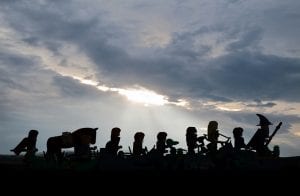 I've always felt a little odd. A lone wolf. I usually don't mind, but you rarely grow in isolation. You need others to encourage you. To push you. To inspire you.
I had no idea I needed a Twitter PLN. I didn't even know what a PLN was until 8 years ago around this time actually. I was in the last PD session before we were out for Thanksgiving holidays. To say we were all ready to go was an understatement.
The PD was edcamp style and the last session was entitled, "Building a PLN." I went to it because the others were all on academics areas and I wanted to learn something totally different.
However, I  had no idea this session was about to change me in so many ways.
I went to the session and was introduced to Twitter. We all joined and I sent out my first tweet. I enjoyed the session but I wasn't sure if I was going to continue using it. BUT…I was intrigued enough to give it a try.
My mom had recently had knee surgery so we all had to stay the living room most of the holiday since she was still recovering. We all sat around watching holiday movies and I thought it would be a good time to explore Twitter.
I have never stopped exploring Twitter from that time. I found a new idea, quote, or interesting educator every time I signed on the site.  I lurked for a LONG time but finally started asking questions and interacting with other educators. I was amazed those on Twitter answered me back! I slowly started sharing a few things. I was even more amazed that other teachers started asking me questions about things I was doing in my classroom. It validated so many things I believed about education and teaching.
Then I started joining Twitter educational chats and reading blogs. Now I am the moderator for #2ndchat and cannot imagine teaching without the fellowship of those in my Twitter PLN.
My Twitter PLN has introduced me to project-based learning, ideas for using GAFE for littles, and gamification. The biggest thing my PLN has taught me is that I am not alone. I need my PLN to be better and I've learned that I am needed to help someone else be better.
Teaching is like a journey and an adventure. Much like the Fellowship of the Ring. We are from all different places, subject areas, and starting points but have joined up to pursue excellence in education.
My team members are not just the ones down the hall but from around the world.  I will be forever grateful for all they have brought to my classroom and my life.