If missed the previous posts in this series, click here: Post 1 & Post 2
Now that we have learned about graphic design and also how a professional game company designs games, it was our turn to create games to help the kindergarten classroom. The kindergarten teacher gave us a wish list of skills for the games. Students were paired up according to their interest in a particular skill.  Students first planned a game independently and then met with the partner to compare ideas to make one game design for the team.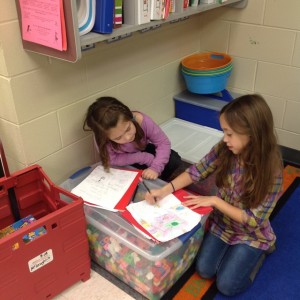 Each pair met with me to discuss the game design and to plan for the dimensions of the cards or game boards. Once the dimensions were set, I met with pairs to teach them how to measure cards. Some students wanted square cards while others wanted rectangles and all wanted different sizes. The hardest part was to teach them how to measure- example:  3 by 2 cards on a piece of cardstock. Once the paper was cut, the students worked on coloring the cards and searching for pictures online if needed. The same process was followed to make the game boards.  All games had to fit in a gallon size plastic bag to make it easy for the kindergarten teacher to store them.
Students made many mistakes with measuring but they did not give up. Students had lots of time to practice measuring accurately which is one of our math standards.
After making the cards and boards (depending on the design), the teams worked on writing clear directions to play their games.  Directions are VERY hard to write. There were many revisions for clarity, grammar and spelling.  After the final draft was completed, it was time to take the game to the laminator. The students loved cutting out their games and seeing the final product. Then we invited the kindergarten class to our room to play the games! The games were a success!
Here's a closer look at the individual games, the game directions and the games in action.