If you missed part 1, click HERE.
After exploring commercially bought games and making a list of what we knew and what we needed to know, we needed to find experts that could help us design our games. One of my classroom parents is a graphic designer! He designs websites, magazines, logos, and flyers for various companies. He came to our classroom to share about design.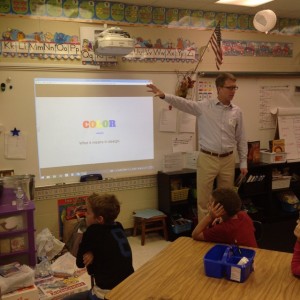 He taught us the importance of color and how to draw attention to different parts of a design.  Did you know that companies choose the colors for their companies to make you feel a certain way?
Then he shared about magazine layouts. The placement of titles and pictures is important.  We learned a lot about graphic design. 
Later that same week, we talked to a game designer from the game company Gamewright. He Skyped with our class and answered ALL of our questions. We had over 20 questions to help us design our games for our kindergarten friends.
Now that we found out all our "need to know" questions, it was time to start design a game! (part 3)