In case you missed the first 3 posts. Click here for part 1, part 2, and part 3.
Here's my favorite part of teaching with project-based learning: THE SURPRISES!
This is only my 2nd project-based learning unit but I am amazed at how many content standards are covered beyond the ones I chose as the focus skills.
Because of one student's research we ended up doing this!
So are you wondering what animal he was researching?  It all started out with the Black Mamba.  One of my students loves snakes.  He chose the Black Mamba as his research animal.  If you decide to try something like this be prepared to hear "Did you know…?" MANY times but it made me so happy to hear it. They were so excited about all they were learning and they just wanted to share.  One morning he came up to me with a book and said, "Miss Mac, did you know that the Black Mamba is 8-10 feet long?"  I did not know that so I asked him how long that was. He held his hands out about 3 feet.  I grabbed a yardstick and we reviewed how long a yard was and then he realized his snake was much longer than he assumed.  So I told him to go figure out how long it really would be.
This was a great unexpected lesson in measuring an object that is longer than the measuring tool. He asked  a friend to help.  This of course grabbed the rest of the classes' attention.  Once they measured 8-10 feet, they laid down by it to show it was bigger than 2 of them!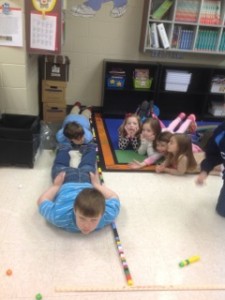 By this time, my principal walked in.  She told a story of a middle school student who told her she could not measure paper for some tables because the yardstick wasn't long enough. 🙂  She was bragging  on my students for outwitting a middle school student. She knighted one of my students as "Sir Measurement."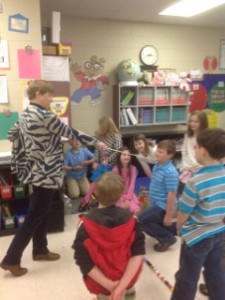 Of course my students loved this! 🙂 Who wouldn't want to be "Sir Measurement?"
My principal stayed for a few minutes to talk to me about what they were learning but also about something totally unrelated to this activity.  When she left, I looked up and this was happening. (The picture was taken after they finished with it.)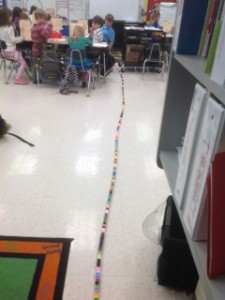 I asked them what they were doing and they said, "Morgan told us that the Anaconda can be between 25-30 feet long so we want to see how long that snake would be!" They really didn't have room to do this well in my room so I told them we would take up their "cube snake" and take it to the school lobby to check for an accurate measurement.
I thought this is  PERFECT chance to practice using yardsticks, meter sticks and measuring tapes.  It is a CCRS (Alabama's version of Common Core) standard and one that I still needed to cover.  We head off to the lobby to rebuild the snake. We took turns measuring with the different tools. They learned you have to be careful with each tool and look for zero and also where one ended.
The final measurement unit was the most fun.  We wanted to see how many 2nd graders it would take to match the anaconda.  I took my tallest and my shortest student and stood them side by side and asked "Is there a problem if we use random students in our class?" They decided we couldn't do that so one student said, "We need kids about the same size!" The lined themselves up in groups around the same size. We used the group in the middle that had the most kids in it.  We used them to measure the "snake."  And that takes us back to our first photo!
Did I plan on practicing measurement when I planned this unit? NO! Did it fit BEAUTIFULLY? YES!  It was a GREAT way to practice our measurement skills in the context of our animal research and they LOVED it!
Part 5 will be about their group presentations.